Hank Nowak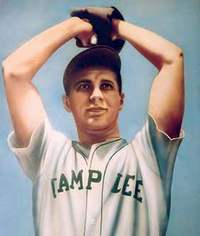 From Gary Bedingfield's site, "Baseball in Wartime":
Henry "Hank" S Nowak was born in Buffalo, New York on August 9, 1918. After graduating from high school the 6-foot-1 right-hander hurled for local semi-pro teams until signing a minor league contract with the Albany Travelers of the Georgia-Florida League in 1939.

Nowak had developed in to an outstanding professional pitcher on the verge of a major league career, but military service beckoned on March 2, 1942 and he was assigned to the US Army's special service section of the Quartermaster Replacement Training Center at Camp Lee, Virginia.  Over two seasons, Sergeant Nowak pitched many games for the Camp Lee Travellers against other Army posts, semi-pro and minor league teams.

But in October 1944, Nowak arrived in Europe ready for combat duty. On December 16, the Germans began their last major offensive of the war – an all-out push to split the Allied line in Belgium – the Battle of the Bulge.  Allied forces lost more than 10,000 servicemen during that freezing winter in the Ardennes. Sergeant Nowak was killed in action on New Year's Day 1945. He was 26 years old.
More information can also be found at the website, "Baseball's Greatest Sacrifice":
News of Nowak's death came as a terrible shock, and not least to the military personnel at Camp Lee, where he had been stationed for two years. In April 1945, Brigadier-General George A. Horkan, officially dedicated the camp's baseball field in honor of Nowak. Before a capacity crowd of 10,000- one of the largest crowds ever seen at a Camp Lee baseball game – the Camp Lee Travelers opened their 1945 season at Nowak Field with a 4-2 loss against the visiting Philadelphia Phillies. Attending the game in addition to many high-ranking army generals was Pop Kelchner, the scout who had signed Nowak back in 1937.

Recognizing the honor and selflessness of Hank Nowak, a group of veterans in Buffalo chartered an AMVETS post in his name on March 17, 1957, and more than 60 years after his death, Hank Nowak's name lives on as young Army pitchers continue to take to the mound in the shadow of their fallen comrade at Camp Lee's Nowak Field.